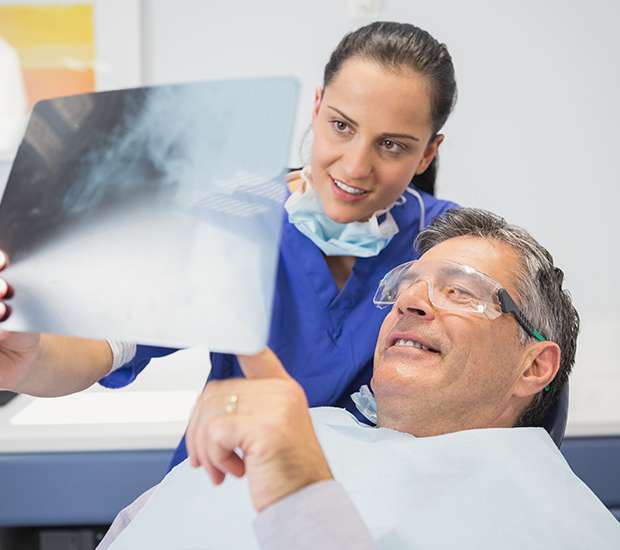 Dental Implant Evaluation
Delaware, OH
If you are searching for a tooth replacement option, then we can conduct a dental implant evaluation. At Sexton Dental, we can help you determine if dental implants are the most effective choice for replacing your missing or damaged teeth. Since dental implants involve inserting titanium screws into the jawbone, there are various requirements the patient needs to meet. We can determine if the patient meets these criteria during an evaluation.
Our team will use this evaluation to go over all the details of the dental implant process with the patient. We will examine the patient's oral health, medical history, jawbone density, and other factors to determine if they are a candidate for dental implants. To schedule a consultation, call us at (740) 363-2080 today.
Factors for Dental Implants
During the evaluation, we will review various factors of the patient's teeth and oral health to determine if dental implants are the right fit for patients. A dental implant is a titanium screw that goes into the jaw to provide a sturdy foundation for an artificial tooth. Dental implants can provide a natural appearance while also functioning like a natural tooth, as well. Three of the factors our team considers during a dental implant evaluation include:
Good Oral Health
Adequate Bone in the Jaw
Number of Missing Teeth
Good Oral Health
The overall state of the mouth needs to be fairly strong to allow for the support dental implants need. Upon placing the titanium screw in the jawbone, the body needs to go through osseointegration. This process helps the bone to bond with the titanium screw. Other oral health issues or infections can interfere with this process.
Osseointegration can take several months to finish, creating a sturdy foundation for an artificial tooth. The patient will also need to keep the mouth and surrounding teeth healthy throughout this process. We will measure the patient's current oral health and medical history to determine if they are a candidate.
Adequate Bone in the Jaw
The patient will need an adequate amount of bone in the jaw for the dental implant process. Without the proper amount, the patient's jaw will not be able to support the dental implant. If the patient does not have dense enough of a jawbone to support dental implants, then they will have to consider other options.
The patient can consider a bone graft to add more bone to the jaw. However, this procedure will lengthen the dental implant process. Thus, it is always beneficial to review other available options.
Number of Missing Teeth
Whether the patient is replacing one missing tooth or several, dental implants can be a possibility. For patients missing several teeth or replacing an entire row of teeth, there are other options that may also be effective. In other cases, patients who are tired of wearing dentures may prefer to switch to dental implants.
Since artificial teeth will not change color, patients may prefer to get a teeth whitening procedure before dental implants. Our team can provide teeth whitening to patients considering dental implants for a whiter and brighter smile.
Call Us Today
If you are interested in learning more about dental implants, then call us at (740) 363-2080 and schedule a dental implant evaluation. We will help find the most effective tooth replacement options that is right for you.
Recent Posts
A general dentist performs most of the treatments commonly used in dentistry. These oral professionals spend most of their time performing preventative treatments, like tooth cleanings, but they also perform more complex treatments, like root canals. A general dentist also serves as an educator, teaching patients how to properly take care of their teeth and…